Laurent Drousie – Artistic director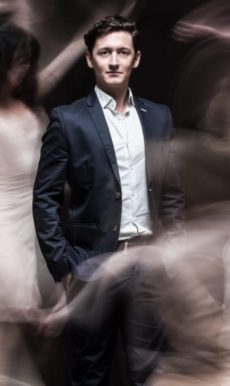 Born in 1987, Tournai (Belgium), Laurent Drousie studied at the Paris Opera's prestigious « École de Danse » and then completed his education at the school of the Royal Ballet of Flanders in Antwerp.
During his career, he joined Europa Danse, then worked at the Royal Ballet of Flanders, as well as Ballet du Rhin and Introdans in the Netherlands.
He discovered quickly his passion and creativity. Since then, he never stopped striving for creating his own language trough movement. His hypnotical work is demanding, physically and mentally.
"I'll always cut a slightly different angle than you would like or you expect."
Laurent Drousie encourages his dancers to challenge themselves and to experience the motions he creates. He incites them to work on their inner emotions and to allow the movement to interact. His work is unique, energetic and dynamic.
The other members of the team:
Marta Kulikowska de Nałęcz – Ballet master
Workshops: the dancers of the company can enjoy multiple workshops all year round to prepare them for the diversity of motion they will have to perform during their career. This season, we are lucky to have:

Emilie Nguyen,
Howard Quintero Lopez,
Ione Miren Aguirre,
Julian Nicosia,
Nicole Kohlmann,

Thierry Guiderdoni.

Guest teachers: the modern ballet showed by the Junior Ballet is based on a multitude of techniques and differents schools. It is essentiel for the dancers to take the benefit of an education given by world known ballet teachers all year round. Here are the names of our guest for this season:

Andrzej Ziemski,
Céline Le Grelle,
Davide Guarino,
Etsuko Sumii,
Gary Lecoutre,
Gideon Louw,
Howard Quintero Lopez,
Ines Cera,
Piotr Nardelli,
Stefan Jon Wise,
Traci Owens,
Véronique Descombe.